At the Hiley Automotive Group, we know to be best-in-class in the industry and to succeed that we need the best people. That's why we are committed to hiring top talent who can help us to curate exceptional experiences for our customers. We strive to provide our associates with meaningful and challenging work, an engaging and collaborative environment, recognition for performance and opportunities for growth and advancement.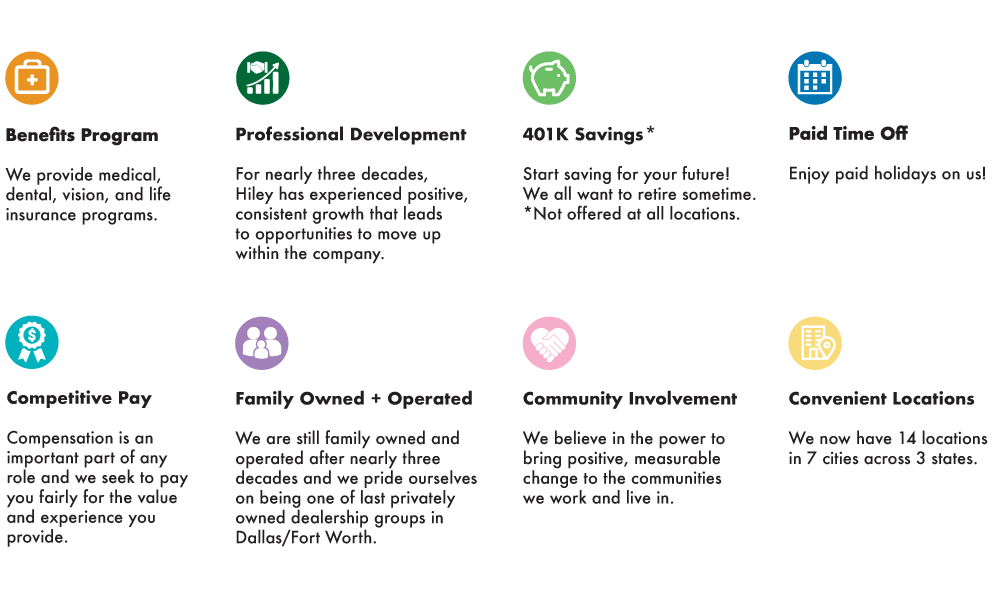 The Hiley Family of dealerships is a locally owned family business that has sold more than 300,000 vehicles. Randy Hiley moved to Fort Worth, Texas in 1967 to work for his uncle, Dub Shaw, a Fort Worth Ford Dealer. He worked there for several years and then went to work for local competition Charlie Hillard, where he worked for fourteen years, later becoming vice-president over seven franchises.
Randy realized a life long dream and opened Hiley Mazda and Hiley Volkswagen in Arlington, Texas in 1990 after his long career with the Hillard organization. It was a very successful venture. General Motors approved Randy Hiley in 1992 to be one of the first Saturn retailers in the country. They interviewed all of Hiley's employees, from the top to the bottom, and the Hiley employees had the highest rate of employee satisfaction that they had ever seen.
Hiley was awarded the two franchises in Dallas and they both opened in 1994. Shortly after the two new dealerships opened, Randy Hiley became the chairman of Mazda's National Dealer Council and became a director of Saturn's franchise operations team.
Randy Hiley's two sons, Jason and Matt went on to buy and sell more dealerships and now serve as the president and vice president of the company. They bought Hiley Mazda of Hurst in 2003 and it has consistently been a top performer on a regional and national level and have earned Mazda's President's Award and Gold Cup Award many times over. In 2009, continuing the family's passion for the business, the Hiley Family decided to expand, and purchased the Mazda, Volkswagen, and Audi franchises in Huntsville, Alabama.
The Hiley Buick GMC store in Fort Worth opened in April 2010 serving as the exclusive Buick GMC dealer near Dallas and Arlington. Later that year, Hiley was assigned a Subaru dealership next door to Buick GMC. In 2014, Ada Dodge Chrysler Jeep Ram was purchased in Ada, Oklahoma. A few months later in 2015, continuing the family's passion for the business, the Hiley Family decided to expand and open a Hyundai franchise in Burleson, Texas. In April 2018, Hiley purchased the Hyundai dealership in west Fort Worth from Frank Kent Motor Co. Shortly after, Hiley acquired the Mac Churchill Acura store in north Fort Worth. We then purchased AutoNation Mazda and moved it next to the Hiley Hyundai Fort Worth store. Most recently, Hiley completed construction of the newest Mazda dealership located in Burleson, TX. 
The Hiley dealerships are still family owned and operated after nearly three decades and are one of the last privately owned dealership groups in the Dallas/Fort Worth area.